Pool Coping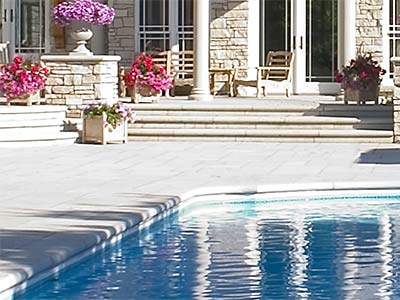 Many residential and commercial properties have pools; and the owners make it a point to design the pool and its surrounding spaces with as much attention to detail as they do the indoor areas of their properties. Every pool also has pool coping along their edges, but not many people pay too much attention to this aspect of their pool, when they are installing or upgrading it.

However, the fact is that pool coping stones can prove to be the focal point of your poolscaping. And when you choose the rest of the materials and features with care, the pool coping units should be of good quality and design as well. When you are looking for good quality pool coping products, you need to ensure that these are sourced from reputed paver suppliers like Contempo Pavers.

They supply various hardscaping products to customers in and around Santa Ana, Los Angeles, Anaheim, and Orange County. Over the years a large number of property owners from across Riverside, Costa Mesa, Long Beach, Torrance as well as Santa Monica, San Clement, San Bernardino and Temecula, have begun purchasing pool coping materials from this company.


Functions of Pool Coping
Coping is made using a concrete base that may have aggregates and pigments added to it; it serves various functions such as:


This installation provides visual demarcation between the surrounding area and the pool itself.
The pool water can cause damage to the pavers or wooden decking and other installations in that space if the coping stones aren't made using top quality materials. The coping also ensures the water stays in the pool and purchasing poor quality products will only lead to early deterioration of the surrounding materials.
These installations effectively seal the pool's edges and prevent slippage and cuts from sharp edges.
Apart from this, the mix of concrete aggregates and natural stones makes your pool a statement piece.
Properly installed pool coping makes your pool look bigger and creates an outstanding visual impact.
Coping helps enhance the appeal of your pool installation and property and adds to its value as well.
Custom Coping Solutions
When you source these features from reputed pool coping companies, you can rest assured that the installation will look good and last for a long time. The experts at the company will also provide you all the information you need about the types of coping materials available, which styling will suit your project requirements and what the pool coping cost will be.

They will work closely with you to understand what your specific requirements are and may also be able to provide custom coping designs. This gives you the flexibility to choose materials that match the styling and design concept of your home and landscaping.

While choosing good quality materials is important, it's probably equally important that you hire expert installers for the job. Creating sustainable outdoor spaces and poolscapes is about using weather-resistant materials that will be able to endure the elements last for a very long time. Handmade coping stones are a great option for residential as well as commercial projects and you can get these products from companies such as Contempo Pavers.



"MORE ARTICLES"

Handmade Pavers
Pavers
Pilaster Caps
Stepping Stones
Wall Caps

We Provide Services to the Following Cities, Towns and Surrounding Regions of Southern CA: