Stepping Stones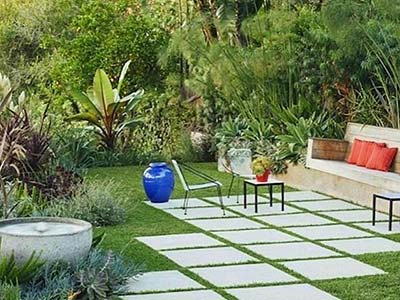 Landscapes are a mix and match of various features such as hardscaping and softscaping. While the plants, trees and lawns lend beauty and freshness to the space, the masonry features add to its resilience and longevity. If you have turf installations in your garden or yard, you also need to ensure that you have some paving running around or through it to navigate to other areas of the landscape. That helps prevent the grass from getting trampled upon.

If you don't want a continuous installation like a pathway or walkway, stepping stones become the perfect solution for this purpose. These features can be made of natural stones or pre-cast concrete. When you are looking for good quality stepping stone products, you need to ensure that these are sourced from reputed hardscape suppliers like Contempo Pavers.

They supply various hardscaping products to customers in and around Santa Ana, Los Angeles, Anaheim, and Orange County. Over the years a large number of property owners from across Riverside, Costa Mesa, Long Beach, Torrance as well as Santa Monica, San Clement, San Bernardino and Temecula, have begun purchasing stepping stone materials from this company.


Custom Design Stepping Stones
Every landscape is different, and while you can source high-grade, rectangular stepping stones, you also have the option to get custom-designed units for your project; there are a number of benefits to this such as:


You can commission concrete stepping stones of the size, shape and styling you want.
The colors and shades can be chosen based on the design and theme of the rest of your landscaping.
If certain areas of your landscape see excessive foot traffic, you have the option to order dense and thicker garden stepping stones for those spaces.
If you want stone in specific shapes to create a certain design in the landscape, the company would be able to cater to those requests as well.
You can order handmade stepping stones with pigments and aggregates of your choice; this gives you the opportunity to create the unique effect you want on your property.

When you purchase landscape stepping slabs from a reputed company, you can rest assured that you will get high-quality products that match your specific needs at stepping stone cost that fits into your budget.


Benefits of Adding Stepping Stones to the Landscape
Stepping stones provide a visual break in very large lawn spaces
They provide a solid base to walk across garden and yard areas
You can install stepping stones in place of complete stone paths
These features look quaint and are a great way to add a unique aesthetic to a landscape
Makes it easier for you to walk across grassy areas even when they are wet.
More cost-effective than getting complete pathways and walkways installed.

Creating sustainable outdoor spaces is about using weather-resistant materials that will be able to endure the elements and last for a very long time are a great option for residential as well as commercial projects and you can get these products from companies such as Contempo Pavers.



"MORE ARTICLES"

Handmade Pavers
Pavers
Pilaster Caps
Pool Coping
Wall Caps

We Provide Services to the Following Cities, Towns and Surrounding Regions of Southern CA: