Wall Caps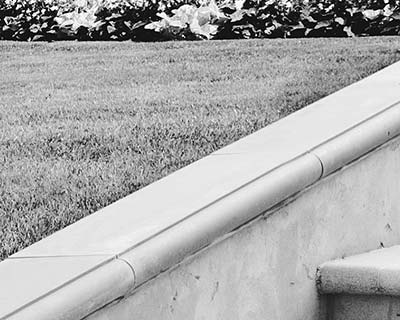 Many properties have boundary and retaining walls as well as half-height walls that are installed to demarcate areas and alfresco spaces like patios, outdoor kitchens etc. In most instances, these walls have a protective course or finishing capping on the top surface that provides a seamless look to the structure.

These wall caps are also referred to as coping, much like the coping used to finish the inner edges of pool installations. When you are looking for good quality wall capping products, you need to ensure that these are sourced from reputed paver suppliers like Contempo Pavers.

They supply various hardscaping products to customers in and around Santa Ana, Los Angeles, Anaheim, and Orange County. Over the years a large number of property owners from across Riverside, Costa Mesa, Long Beach, Torrance as well as Santa Monica, San Clement, San Bernardino and Temecula, have also begun purchasing wall caps materials from this company.


Custom Wall Cap Features
While stone wall caps can be used to create a beautiful aesthetic, you also get excellent precast wall caps that can be installed on different types of walls in your landscape and you can choose from edges such as:

Bullnose
Flat
Chamfered
Textured
Rough
Smooth
Rounded
Double rounded
Rock face
Chiseled

When you source these features from a well-established company, you can rest assured that the products will be of high quality. Most wall cap suppliers will have some standard narrow and wide units in specific colors. These companies can also provide you customized solutions and you can choose the pigments and aggregates as well as shapes, the thickness and finishing.

If you have a certain design, color, shape and styling preference, they can create custom wall cap units for you. This lends a stunning look and appeal to your walls and increases the value of your property as well. The custom designed wall caps ensure the theme and concept of your landscape is maintained and many of these emulate the look of stone as well. These prove to be a cost-effective option to natural stone, and they are lighter and easier to install.


Benefits of Concrete Cast Wall Caps
Wall Caps are a key aspect in adding a great finishing detail to your landscape walls, boundary as well as entrance type structures and there are a number of benefits to installing them such as:

They can accessorize veneers applied to property boundaries, retaining walls as well as certain interior wall applications.
If you have some natural stone feature, these wall caps can be added as standalone embellishments as well.
High quality capping stays won't look old even after extensive exposure to the elements and they won't crack, fade, or degrade in any way.
The installation is easy, and stress-free.
The features require minimal maintenance.

Creating sustainable outdoor spaces is about using weather-resistant materials that will be able to endure the elements and last for a very long time. Handmade wall capping stones are a great option for residential as well as commercial projects and you can get these products from companies such as Contempo Pavers.



"MORE ARTICLES"

Handmade Pavers
Pavers
Pilaster Caps
Pool Coping
Stepping Stones

We Provide Services to the Following Cities, Towns and Surrounding Regions of Southern CA: